«Teremok»
September 16, 2017 The Museum Educational Complex «MOK  Nikolskaya 15» invited volunteers to clean the territory on a unique site that has preserved the 16th century architecture. Synodal Printing House placed at the address Nikolskaya 15 is remarkable not only for its history, but also for the decoration of the building. Now here, in this building, richly decorated by carved and stucco decor, by the solar clock  the Historical-Archival Institute of the RSUH is located.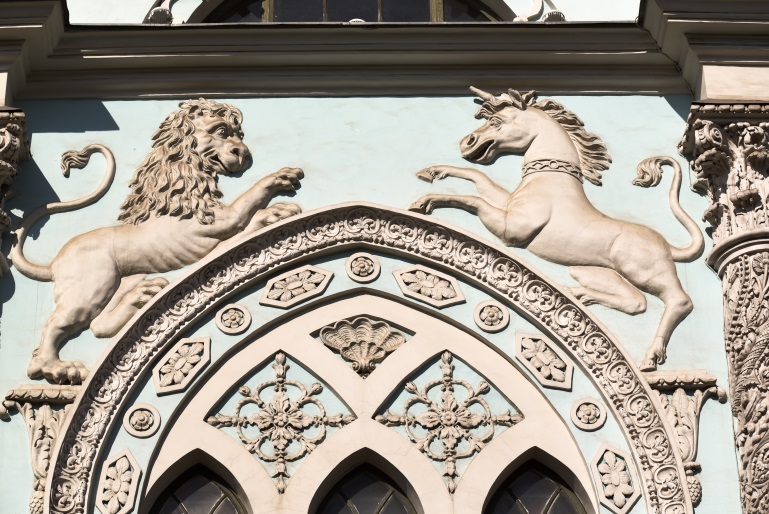 And behind it — in fact, adjacent to the existing Kitay-Gorod Wall, there is another unique monument of history and culture — the Chamber of the Sovereign of the Printing House, often referred to as «Teremok». Here is what information the Public Movement Arhnadzor («Red Book») gives about this object of cultural heritage: «One of the oldest public buildings in Moscow, the place of the publication of the» Apostle » of Ivan Fedorov and the first Russian newspaper -» Vedomosti about military and other matters «edited by Peter I. The basement belongs to the XVI century — the time of this  first printer. The above-ground floors were erected in the 1670s by the masters Stepan Dmitriev and Ivan Artemyev, including the Correct (editorial) and the Book Chamber. Restored in the 1870s by the architect N.A. Artlebenom,  becoming itself a monument of the restoration art of the XIX century .»
| | |
| --- | --- |
| | |
Very noteworthy it turned out that not only on the facade of «Teremok», but on its tiled stoves, symbols of the sovereign power used «from time immemorial» in Russia — the lion, the unicorn and the eagle, are imprinted. (The project www.mascaron.org is planning a short review about these symbols on the facades of Moscow).
But if on the facade of the Synodal Printing House the lion and the unicorn «opposed» each other for the crown (at present this element of composition is absent, depriving in large measure the meaning of the composition), then at «Teremok» the lion and the unicorn are opposed at the roots of the «World Tree» ( The plot that often occurs). As we know, in the struggle of the lion and the unicorn, the victory was won by the double-headed Eagle, which is also represented in a variety on the facade of «Teremok».
Some work on the territory clearing took place in the basement, the oldest, ancient premises, and on the very Kitay-Gorod Wall. In one of the basement rooms it was possible to find white stone foundations, and, perhaps, some special constructions (maybe traces of passages) of the Kitay-Gorod Wall.
The project www.mascaron.org expresses gratitude to «MOK  Nikolskaya 15» for the unique opportunity to make a captures, and also thanks the Public Movement "Arhnadzor"  for organizational anf informational support.
Specify Street Nikolskaya, # 15 in the filter fields to see all the objects
Do not forget to use the opportunity to view the panorama of the street, to see the building itself and the street itself — drag the «yellow man» to the map next to the selected address.